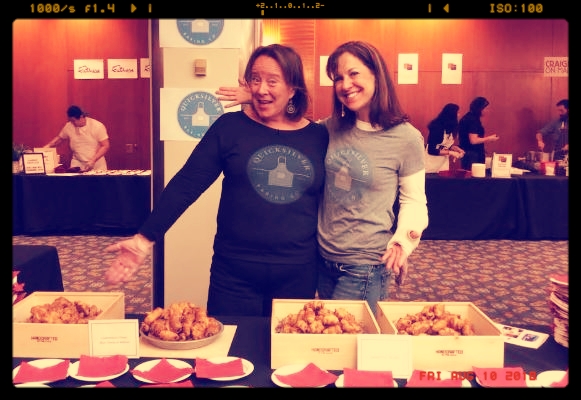 Why name the company QUICKSILVER? Growing up in Manchester, NH, our mom Annette Silver was never on time.... As an adult neither was Ann Silver Fain (she's nothing if not consistent!) When Ann was little her friends nicknamed her 'quicksilver' due to her tardiness.
Ann married Alan Fain (who was from Brookline,MA) anD they raised their family in Weston, MA. Our home was always THE 'holiday house', the center for many meals, gatherings, holidays and of course dropping by or popping in was encouraged! Over the years family and friends had their own 'Aunt Ann favorite' that they hoped would make an appearance on each occasion.
QUICKSILVER BAKING COMPANY honors our mom (and family) showcasing family photos on our packaging spanning 40 years (1930 - 1970), and features one of our mom's favorite and special recipes.... her RUGELACH!!!
Rugelach is a Jewish dessert made with a dairy based dough, and traditionally filled with sweet flavors. QUICKSILVER BAKING COMPANY is proud to introduce our innovative creation SAVORY RUGELACH!!!, 'A Savory Twist On An Old World Favorite'.
We make three savory flavors and three sweet flavors of rugelach. Our savory flavors: Caramelized Onion/ Blue Cheese & Walnut, Jalapeño & Cheddar, and Kalamata Olive Tapenade & Walnut are sold in our 'savory mix' pack or individually with 18 pieces in each. The traditional sweet flavors are sold in our 'Mom's Original Sweet Mix' pack and feature all the flavors we enjoyed in our home as kids: Apricot & Walnut, Cinnamon/ Brown Sugar & Walnut, and Raspberry & Walnut. These are also sold in a pack of 18, six pieces of each flavor.

All of our products are sold unbaked and frozen so that you can bake them off at home and serve them fresh and warm!

We hope you enjoy it as much as our family does!
Let us know what you think! Cheers!